Science and Nature Camp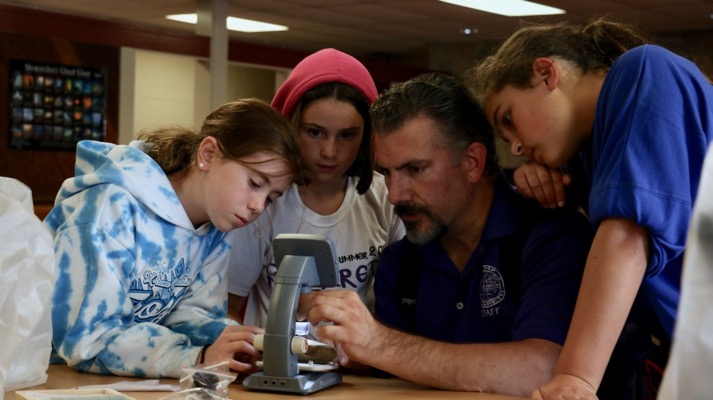 Sunday, August 8 – Friday Aug 13
Camp Nazareth's Fourth Annual Science and Nature Camp which would have taken place August 8-13, 2021 has been CANCELLED.
Camp participants will learn all about Astronomy, Biology, Earth Science, Geology, Meteorology and SO MUCH MORE! Past Presentations and activities have been given and led by the Carnegie Science Center, the Carnegie Museum of Natural History, the Jennings Environmental Center, as well as local high school teachers and college professors.
Participants will have the opportunity to use telescopes, microscopes, and water quality management technology as well as explore the trails, waterfalls, streams and geography of the Camp. Special emphasis will be placed on appreciating the beauty of nature and the wonder of the fields of science they will study.
The Science and Nature Camp is a resident (sleepaway) Camp for ages 8-18. It will take place on the 289 beautiful acres of Camp Nazareth property located at 339 Pew Road, Mercer, PA.


Online Registration for the Science and Nature Camp Click Here


Email campnazareth@acrod.org or call 724-662-4840 for more information


In addition to the Science and Nature program, participants will enjoy the many amenities Camp Nazareth has to offer including a Junior Olympic-size swimming pool, the new High and Low Ropes Course including a 750 foot Zip Line, climate-controlled cabins, sports fields and basketball courts, a large Rec Room, a volleyball court, and more.
The Science and Nature Camp Flyer and information sheet are located below. The schedule will be posted when registration begins on March 1
Download Science and Nature Camp Flyer (Black and White) PDF Format
Download Science and Nature Camp Flyer (Color) - PDF Format
Download Application Information Sheet (PDF Format)
Parents-Campers Information Package (PDF Format)