Welcome To Camp Nazareth!

We would like to welcome you to the website of Camp Nazareth Retreat and Conference Center. Camp Nazareth, located in Mercer, PA, has been serving a variety of groups and hosting many different events since 1977. It has hosted religious camps, sports camps, weekend retreats, school meetings, marriage retreats, band camps and other events during its 36-year history. We invite you to call or visit us to see how Camp Nazareth can meet your group's individual needs.... Learn More >>
Take a Video Tour of Camp!
40th Anniversary Celebration - Saturday September 16, 2017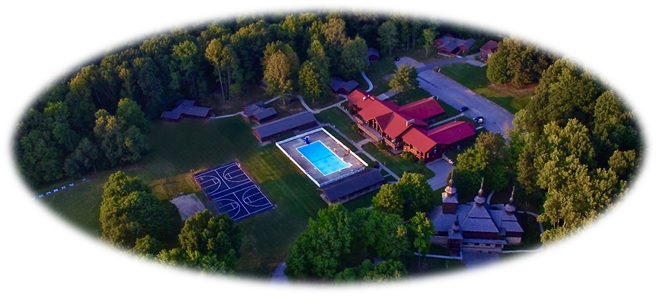 Camp Nazareth celebrated its 40th Anniversary Celebration on Saturday, September 16, 2017. The day began at 10am with the celebration of Hierarchical Divine Liturgy at the Camp's Sts. Cyril & Methodios Church. The Divine Liturgy was followed by Lunch in the Camp Lodge. A wonderful day of reminiscing about the past and looking forward to the bright future was had by all!
Read More About The Event Here.
Latest News - Click Title To Read More.
Sunday, September 17, 2017
On Saturday, September 16th faithful gathered together at Camp Nazareth with His Grace Bishop Gregory and our Diocesan priests to celebrate the Camp's 40th Anniversary. It was a beautiful celebration that began with the Hierarchical Divine Liturgy which was followed by a Luncheon, a dance performance by Slavjane Folk Ensemble from Pittsburgh, a speaking program, as well as a picture display and slideshow.

Fifteen priests celebrated the Divine Liturgy together with His Grace Bishop Gregory. We had a couple pleasant surprises among the priests who attended, among them Fr. Tom Kadlec who came down from Buffalo/Cheektowaga, NY to join the festivities. Faithful, mostly from Western PA and Eastern Ohio, gathered as well to celebrate and sing the responses led by a trio of cantors who included Reader Samuel Loposky, Subdeacon and Seminarian Nathaniel Choma and Seminarian Vince Dranginis.
Thursday, April 06, 2017
Our Diocese is pleased to announce its first annual Camp Nazareth Alumni Day to be held on Saturday, May 20, 2017 on the grounds of the Camp. All former Campers, Staff, Volunteers and Clergy alumni, and their families, are invited to attend the event. This includes the alumni from the Greek Orthodox Metropolis of Pittsburgh and the Episcopal Diocese of Northwest Pennsylvania, both long-time user groups of the Camp.
Countdown
Social Media
Photo Gallery
Video Gallery
Events Calendar
Support Us!